[vc_row][vc_column][vc_column_text]
Morocco carefully navigated the Gulf crisis to protect its diplomatic and financial interests and it stands to benefit from its partial resolution.
Download article
Morocco maintained an officially neutral position throughout the forty-three-month-long crisis between the kingdom's allies in the Gulf Cooperation Council (GCC). When Saudi Arabia, the United Arab Emirates (UAE), Bahrain, and Egypt imposed a blockade on Qatar in 2017, Morocco was faced with a delicate balancing act: preserving its relationship with Doha without alienating the Saudi-Emirati bloc. Despite sporadic tensions with the latter, the kingdom's decisionmakers successfully maintained a neutral policy vis-à-vis the rift while managing to strengthen ties with Qatar; this policy intended to protect the kingdom's diplomatic and economic interests.
Following the Al-Ula breakthrough in January 2021 and the partial resolution of the crisis, Morocco stands to gain a lot in terms of economic and diplomatic support. Importantly, Rabat's independent and neutral foreign policy in the Gulf has proven to the international community that it is a credible regional actor.
Motivations of Neutrality
Since the start of the Gulf crisis in 2017, Moroccan decisionmakers refused to take sides while multiplying calls for a resolution and even offering to mediate between the Gulf states. This neutrality was motivated by Morocco's significant economic and diplomatic interests in the Gulf which had intensified since 2011.
Indeed, the 2011 uprisings and their aftermath saw a strengthening of Morocco's relationship with the GCC as a bloc, as well as with individual Gulf states such as Qatar, Saudi Arabia, and the UAE. Due to the threat that the uprisings represented to these countries on the domestic and regional levels, the GCC, led by Saudi Arabia, sought to deepen ties with Morocco for several reasons. Riyadh aimed to increase its influence in North Africa while countering Iranian influence in the region. Furthermore, after the Muslim Brotherhood gained influence in Egypt and Ennahda in Tunisia, Saudi Arabia wanted to avoid further Islamist leadership in the region. Finally, it aimed to form a loose alliance of monarchies to counter growing republicanism in the Middle East and North Africa (MENA). This last point may explain why Gulf states invited Morocco and Jordan to join the GCC in 2011 (though Rabat did not pursue the invitation).
On the Moroccan side, decisionmakers welcomed the deepening of ties with GCC states because it promoted the kingdom's economic and diplomatic interests. Economic benefits mainly included Gulf investment, aid, and trade. In fact, there was a notable increase in Moroccan exports to various Gulf countries following the Arab uprisings (see Figure 1). GCC aid to the kingdom also increased during this timeline, with Saudi Arabia taking the lead. In 2011, the GCC provided Morocco with five billion dollars in aid to fund development projects. In 2016, Saudi Arabia signed a deal worth 230 million dollars in aid to Morocco. Gulf countries are also a major source of investment in the kingdom, especially in real estate. In 2019, 40 percent of Morocco's foreign direct investment came from the GCC. In 2016, Saudi Arabia pledged to invest 22 billion dollars in Morocco's military.
Furthermore, Morocco's strengthened bond with Gulf states allowed it to diversify its alliance base away from Europe and to become less dependent on EU influence. This is a major foreign policy goal that aligns with the kingdom's foreign policy re-direction over the last decade towards Africa, the Gulf, and new partners such as China. Closer ties to the Gulf also provide Morocco with support for its claim to the disputed territory of Western Sahara.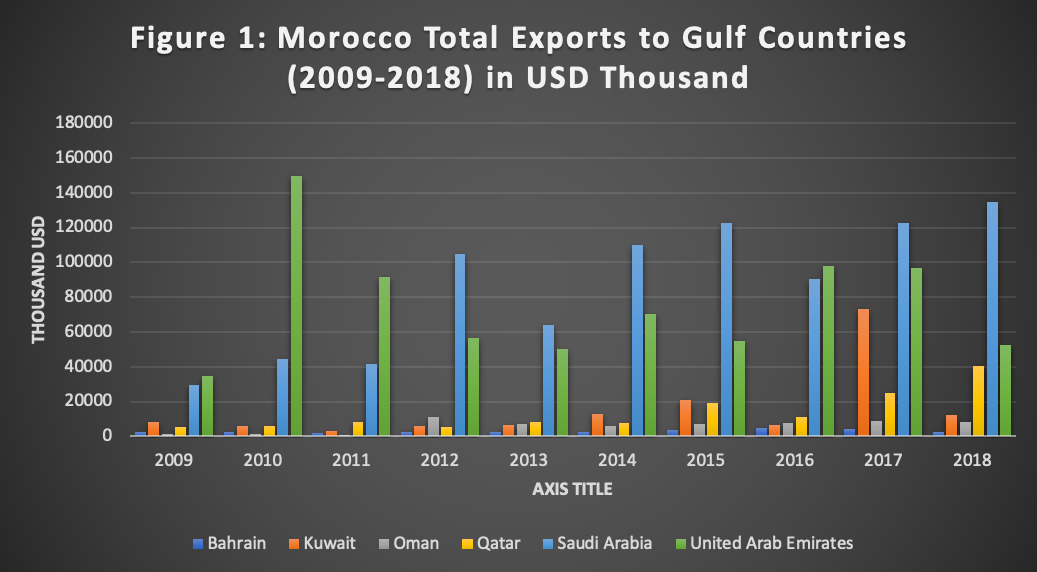 Source: World Integrated Trade Solution, accessed January 20, 2021, https://wits.worldbank.org/CountryProfile/en/Country/MAR/Year/LTST/Summarytext.
Unofficial Tensions
Thus, Morocco's relationship with the GCC and with individual Gulf states motivated the kingdom to adopt an officially neutral stance vis-à-vis the Gulf crisis. Yet, there are signs that it favored Qatar. In fact, Doha-Rabat relations strengthened over the last three years, with both sides looking to increase their economic, security, and political cooperation. First, Morocco refused to bow to pressures from blockading countries to turn on Doha despite the fact that Morocco had significant financial interest in its relationship with Saudi Arabia. Furthermore, days after the crisis was announced, amidst fears of a potential food shortage in Qatar, the Moroccan regime sent supplies to Doha. The two also strengthenedtheir security cooperation; and recently, Morocco also offered security assistance to Qatar ahead of the 2022 World Cup. On its end, Qatar provided the kingdom with diplomatic and financial support- most recently during the pandemic. Importantly, Doha's rhetoric vis-à-vis Rabat did not change over the course of the crisis. Qatar backed Morocco's bid to host the World Cup in 2026, while Saudi Arabia backed the United States-Mexico bid. Furthermore, Doha has consistently supported Morocco financially over the last decade. In 2015, it signed a 1.25-billion-dollar aid deal with Morocco, as part of the GCC development package promised during the 2011 uprisings. That same year, the Qatari emir donated 300 million dollars to build a hospital in northern Morocco. Most recently, in 2020, Qatar Charity contributed to Morocco's special COVID-19 relief fund.
Morocco's rapprochement to Qatar triggered hostility in the Saudi-Emirati bloc. Although these were constantly deniedby officials, there are clear signs of tensions rising. Indeed, Morocco withdrew military support for the Saudi-led coalition in Yemen in 2019, King Mohammed VI did not meet with Crown Prince Mohammed bin Salman during his post-Khashoggi tour of the region, and sources claimed that Morocco's ambassador to Saudi Arabia was temporarily recalled. Another potential source of tension between Rabat and Abu-Dhabi is Morocco's position on Libya. Moroccan decisionmakers reportedly refused to support UAE-backed Field Marshal Khalifa Haftar as he sought to take over in Libya. Instead, the kingdom continues to support the UN-backed Government of National Accord as Libya's sole authority and to promote the 2015 Skhirat Agreement – which was signed in Morocco – as the basis for any political solution.
On the other side, in 2019 Saudi television aired a documentary questioning Morocco's sovereignty over Western Sahara, the United Arab Emirates recalled its ambassador from Morocco, and King Salman cancelled his annual trip to Tangier. In fact, after Morocco announced its neutral stance towards the Gulf crisis, a Saudi official declared, "To be in the grey area is no longer acceptable to us…If you want support, it'll be in Riyadh." During the coronavirus pandemic, in April 2020, Abu Dhabi announced that it would impose restrictions if it did not repatriate its citizens stranded in the UAE.
Recently, however, relations between Rabat and Abu Dhabi and Riyadh improved following Morocco's partial normalization of ties with Israel towards the end of 2020. Morocco and Saudi Arabia experienced a rapprochement as the two announced the creation of a joint investment fund to help businesses in January 2021. The UAE and Bahrain declared support for Morocco's claim to Western Sahara and have opened consulates there- a major win for Morocco as this supports its claims to the territory.
Outlook
At the onset of the crisis, Rabat faced the significant challenge of striking a balance between maintaining (if not strengthening) ties with Qatar without angering its closest allies in the Gulf, Saudi Arabia and the United Arab Emirates. Morocco has managed this successfully. Its neutrality throughout the crisis not only allowed the kingdom to maintain ties with all allies, despite tensions on one side; but it also increased Morocco's credibility on the international stage. Morocco has positioned itself as a neutral actor aiming to mediate rather than take sides; one with an independent foreign policy strategy that is not constrained by specific actors. This will strengthen the kingdom's policy of constructive and active neutrality on the world stage, and in the Libyan peace process.
Furthermore, the partial resolution of the Gulf crisis will benefit Morocco's economy and its foreign policy. In the immediate future, it will reduce tensions between the kingdom and the Saudi-Emirati bloc that were triggered by Morocco's close ties with Qatar. There will likely be in increase in Gulf investment, trade, and aid packages. Going forward, the kingdom will no longer be under the same pressure to pick sides and emphasize its neutrality. Instead, decisionmakers in Rabat can now re-focus their efforts on strengthening ties with Saudi Arabia and the UAE to promote its economic and diplomatic interests, and to deepening ties with Riyadh to counter potential Algerian influence in the region. On the Gulf side, support for Morocco will resume and increase naturally, as Gulf states have security interest in the kingdom and have invested in its regime after the 2011 uprisings.[/vc_column_text][/vc_column][/vc_row]
A visiting fellow at Brookings, Abouzzohour holds a PhD in Politics from the University of Oxford where she taught comparative politics, international relations, and economic governance. Her research focuses on authoritarian persistence and transition, strategic regime behavior and interactions with opposition movements, and mixed methods research. She is currently writing a book on regime survival in MENA monarchies and completing several projects on the politics and economy of North African states. Abouzzohour previously worked as a Political Risk Analyst at Oxford Analytica and holds a B.A. (Hons) in Political Science from Columbia University.